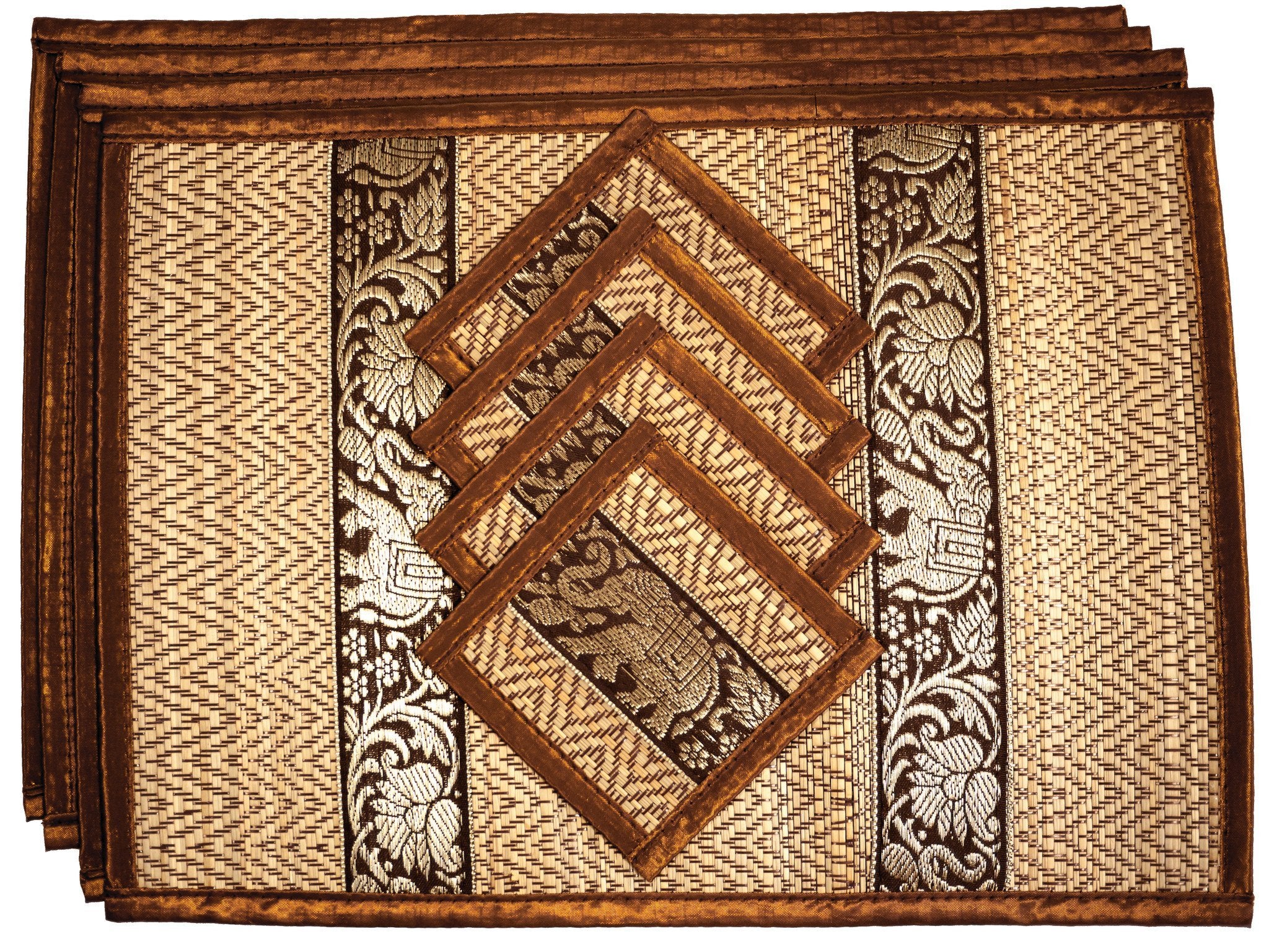 Hover over image to zoom
Reed Placemat with Silk Trim Medium - Eco Friendly Handmade, Heat Resistant, Easy to wipe clean Sustainable Kitchen craft Dining table mat with natural reed material by artisan
Medium - See = Luxury LARGE size available here!
Eco and environmentally friendly alternative to plastic, silicone placemat they are easy to clean as well as being heat resistant

Comes in two sizes Large and Medium. 4 placemats and 4 coasters per set

These Hand Weaved wicker reed Thai style placemats and coaster sets with silk border trim made with natural sustainable materials by skilled crafts people, a quality item perfect for the dinning table when entertaining guests but hard wearing enough also for everyday place mats. Beautifully decorative with lace elephant trim they are also perfect for dining table centerpiece mats or for a coffee table mat.

Heat resistant to protect the table and very easy to clean just wipe with a damp cloth and leave to dry.

Dimensions - Medium - Approximately 35cm by 25cm (14 x 10 inch) place mats

Luxury Large Placemat - Approximately Long 45 cm, Width 30 cm ( 18 x 12 inch)
Both come with coaster to of 10cm by 10cm (4 x 4 inch)
Description 
CCcollections works directly with the artisan families in the local community that hand make the materials used in these placemats.
These Hand Weaved wicker reed Thai style placemats and coaster sets are made with hand selected natural material woven together and then stitched to create a unique item that will bring a touch of elegance to your kitchen, home or dinner party.
Hard wearing, heat resistent and easy to wipe clean they are ideal for upmarket restaurants that want to stand out from the crowd with beautiful interior decor as well as great food.
Being made from natural materials as well as from being ethically sourced they are also environmentally friendly.
PVC, Plastics, vinyl, are NEVER good for our world, EVEN when recycled.
Why buy environmentally damaging materials that will harm our children future planet when you don't absolutely need to?
You can avoid that with these hand craft mats with gold elephant lace detailing and vivid coloured silk trim work.
You have the best of both worlds - stunning intricate design and functional use.
Restaurants, trade and wholesale - available with or without coasters please contact CCcollections for details.
Dimensions - Medium - Approximately 35cm by 25cm (14 x 10 inch) place mats
Luxury Large Placemat - Approximately Long 45 cm, Width 30 cm ( 18 x 12 inch)
Both come with coaster to of 10cm by 10cm (4 x 4 inch)
Variants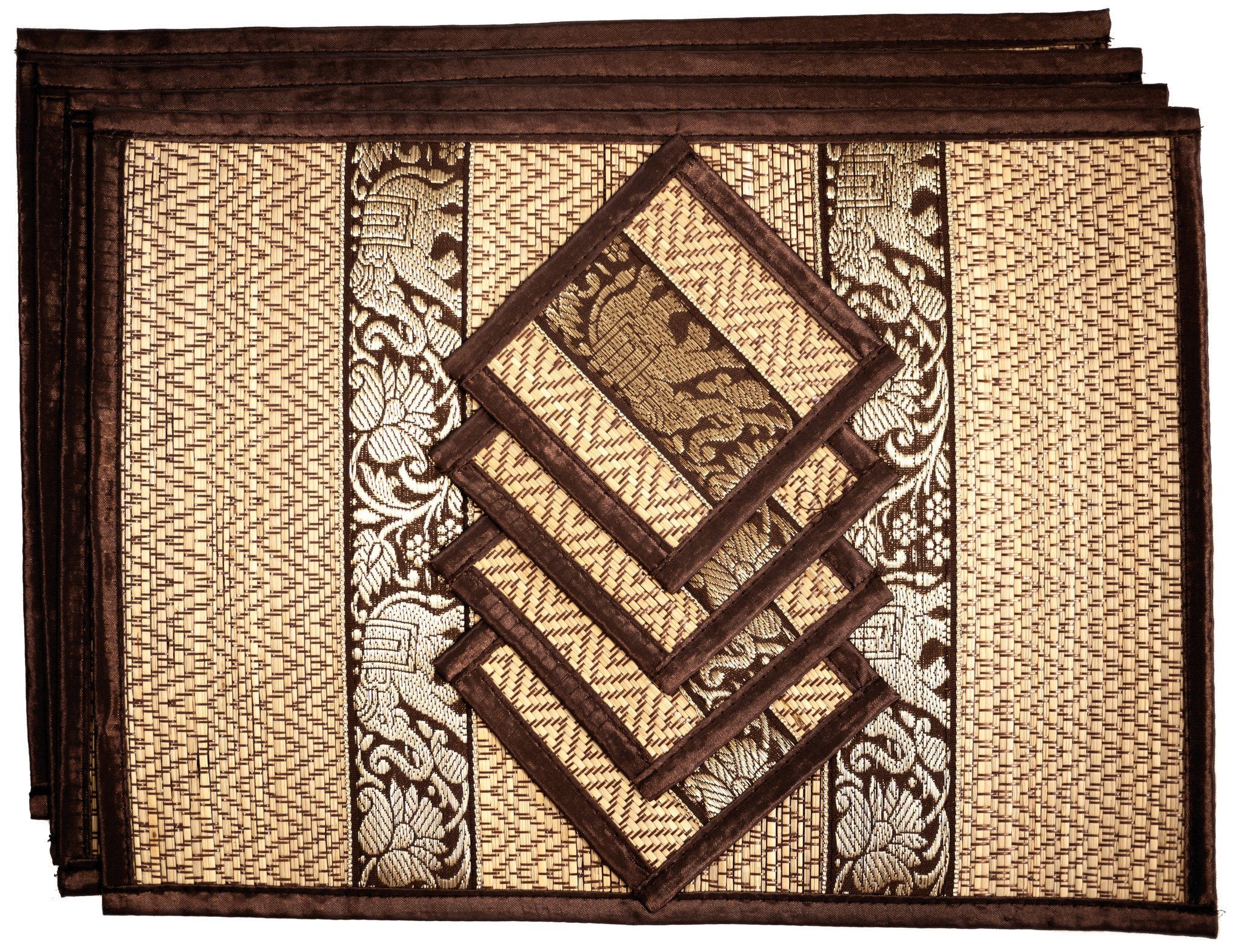 Brown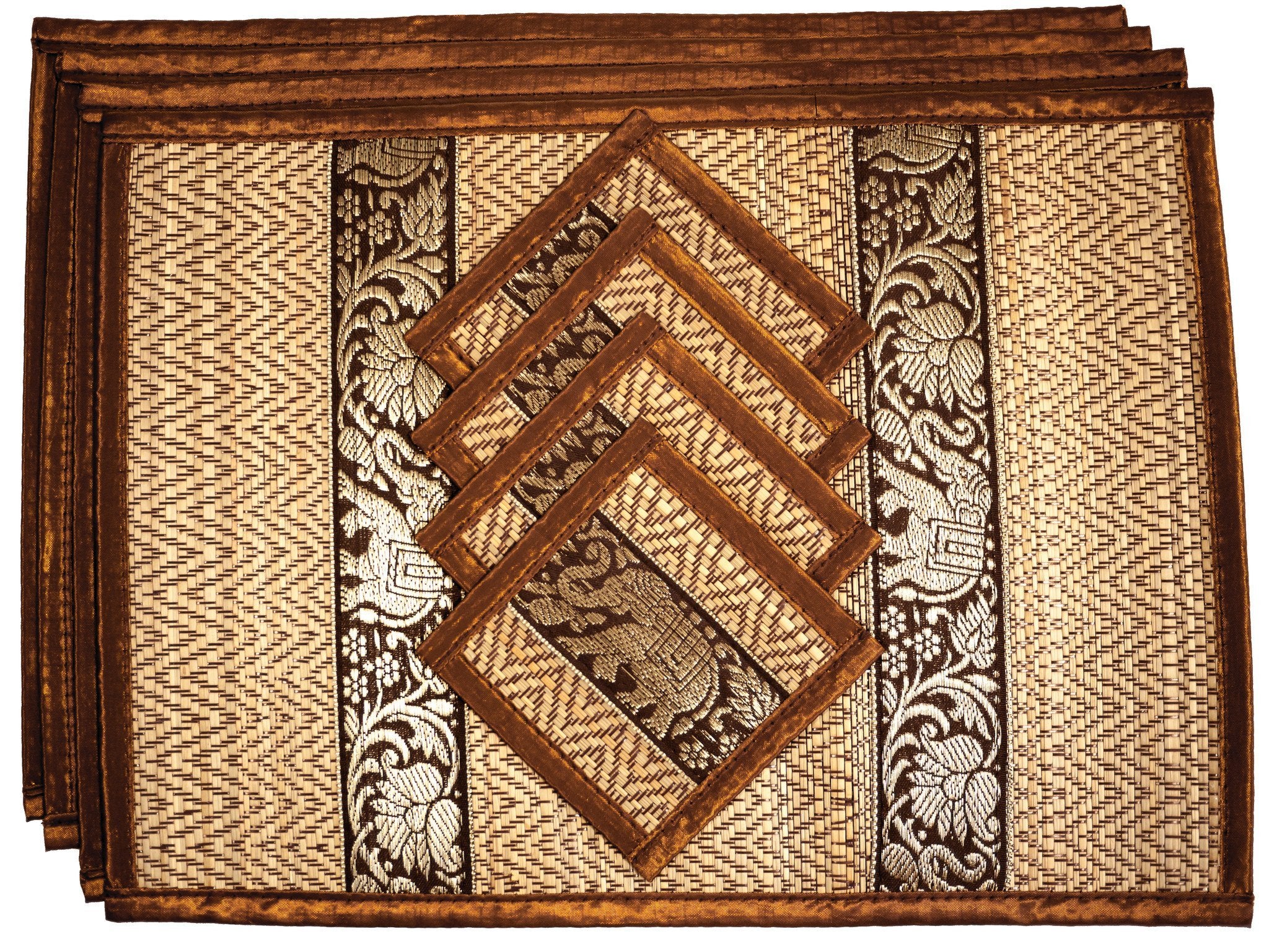 Gold Dark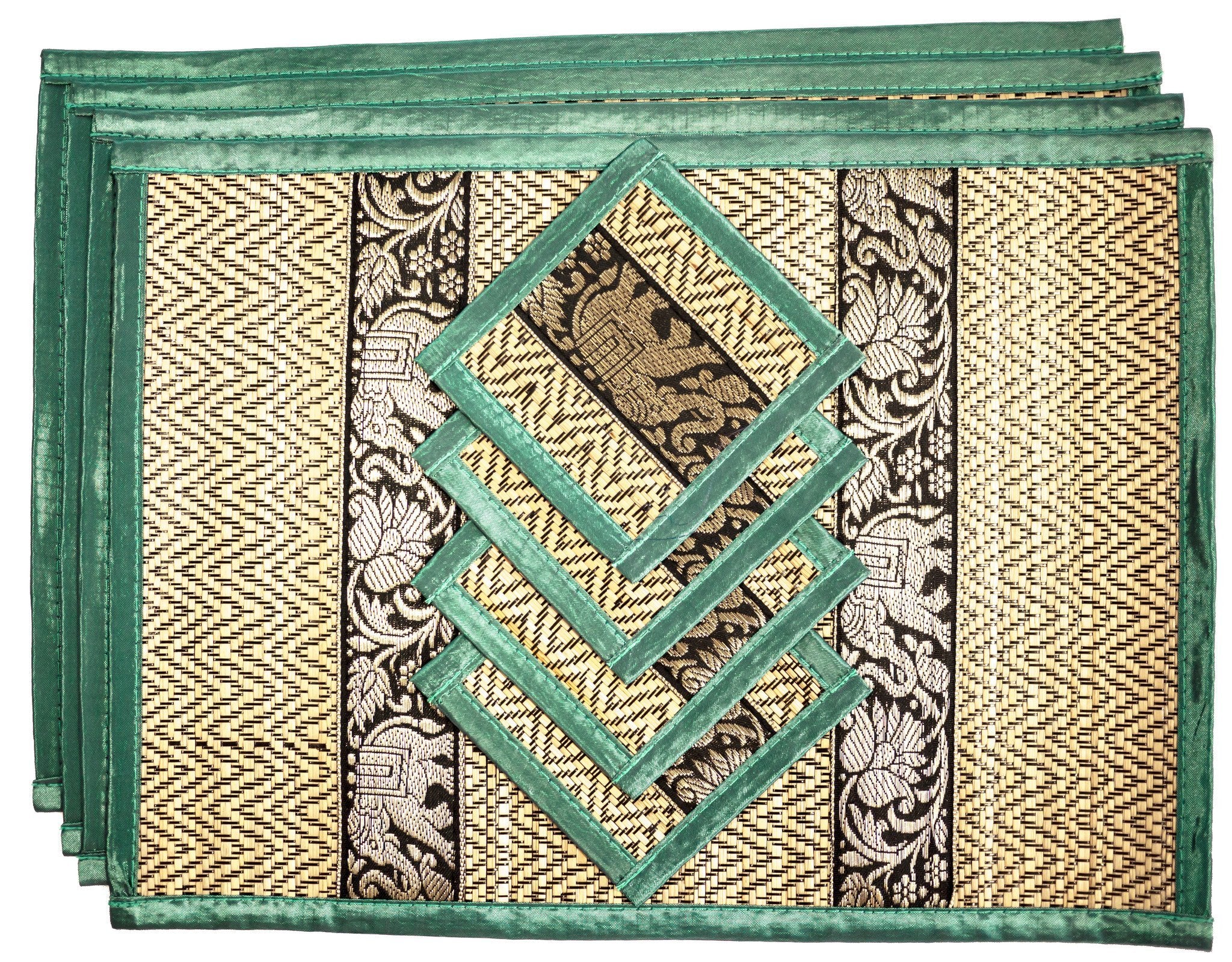 Green Teal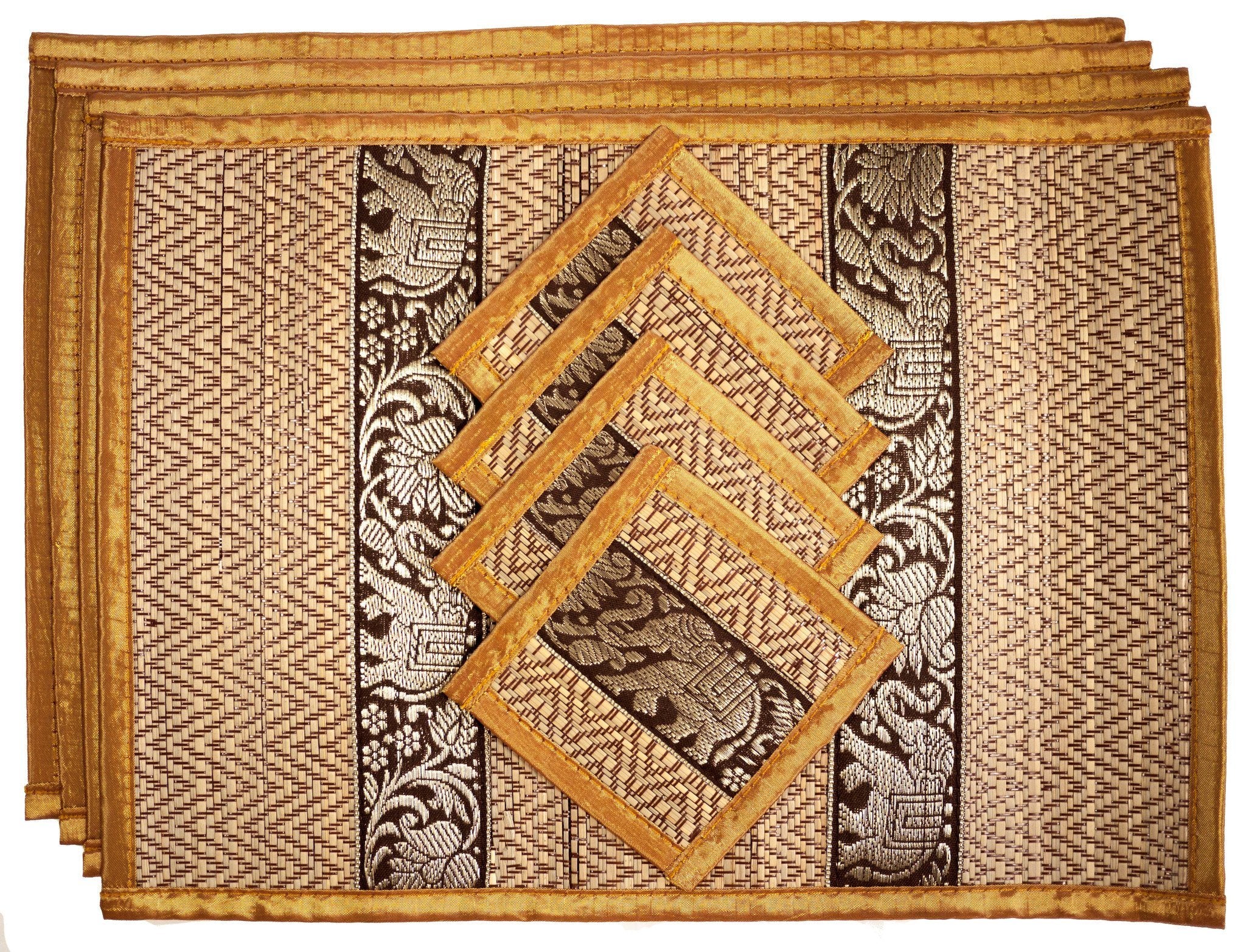 Gold Light
Pink Light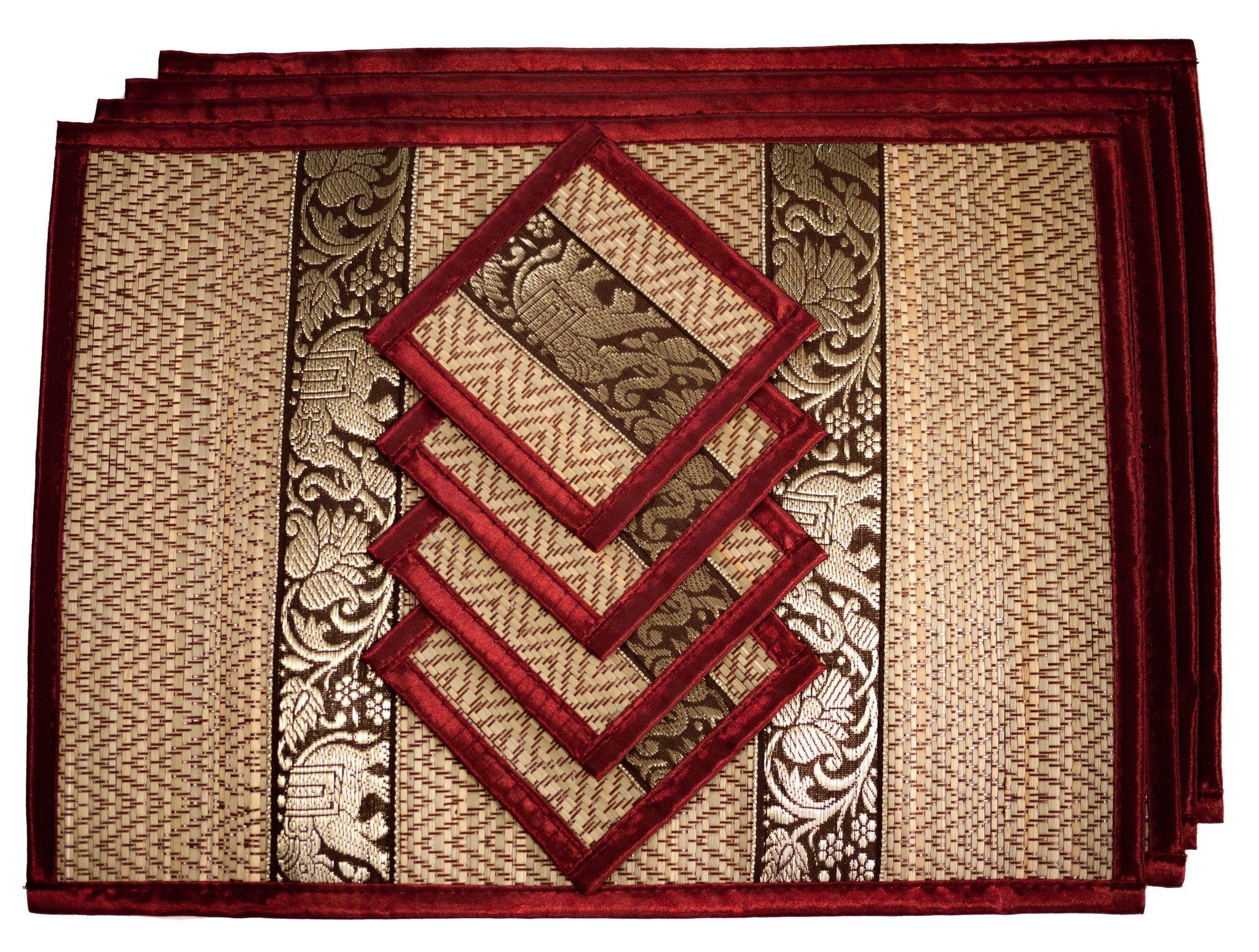 Red Burgundy
Purple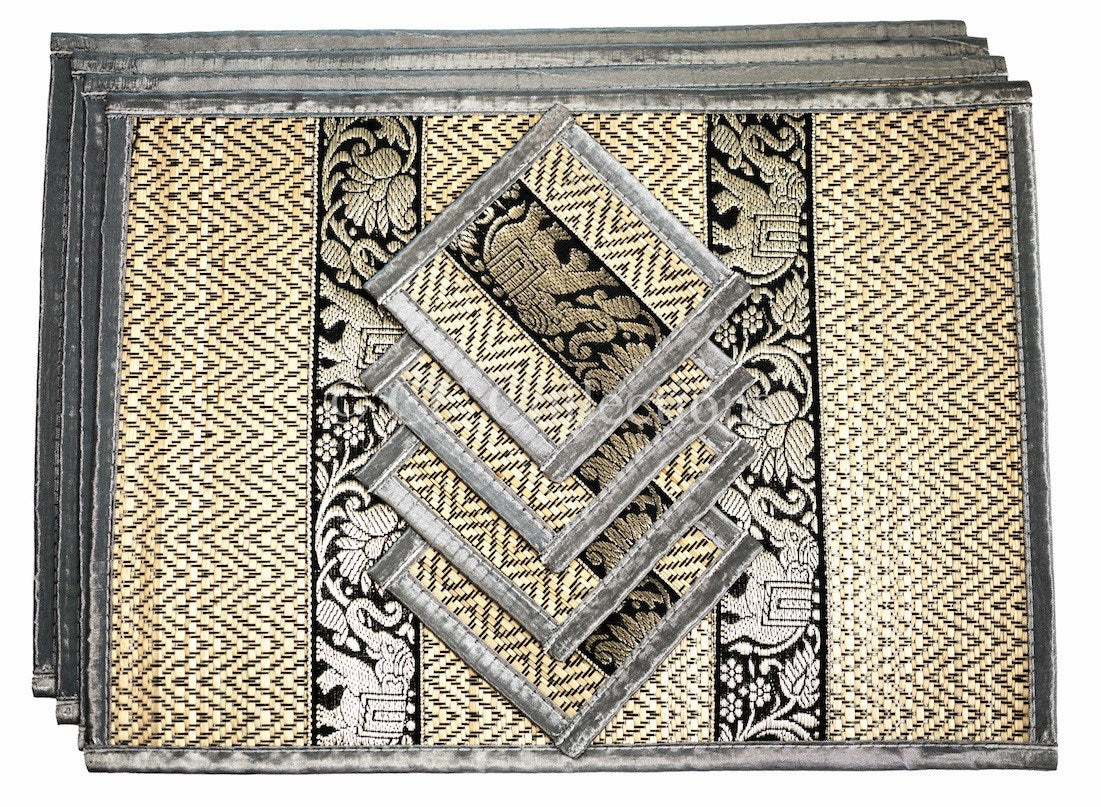 Grey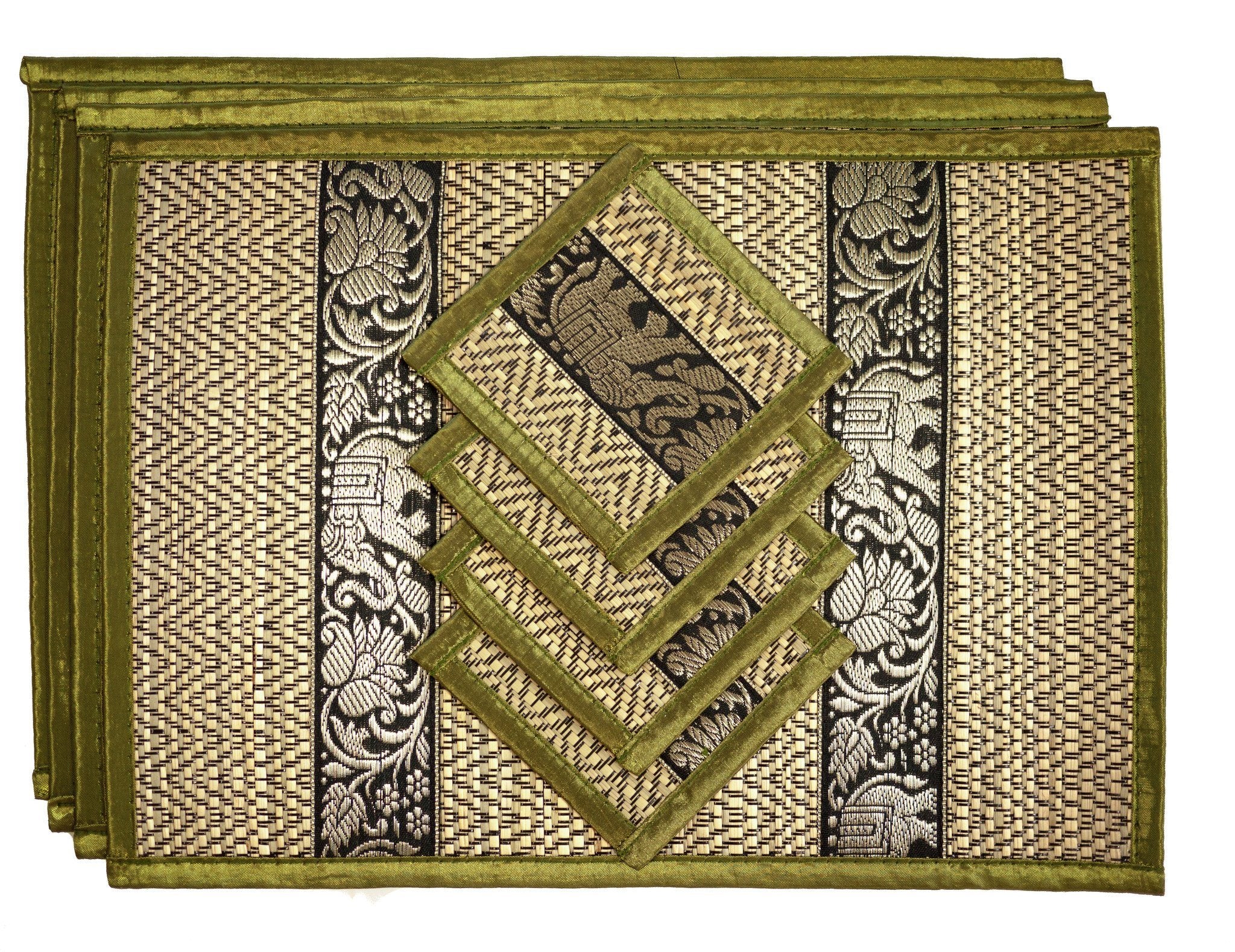 Green Olive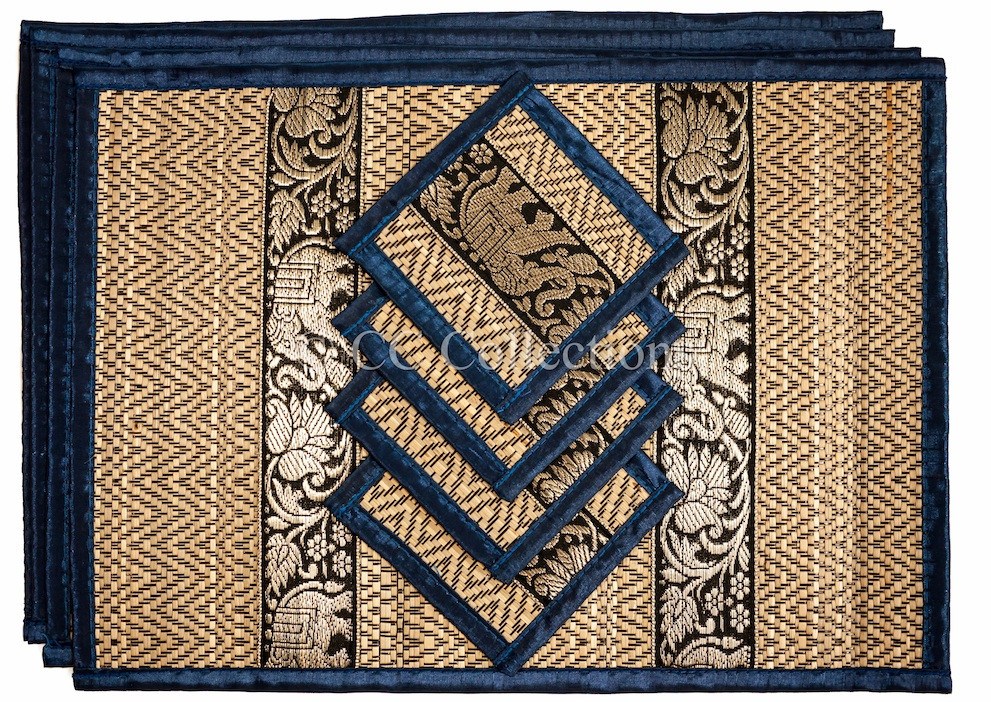 Blue Navy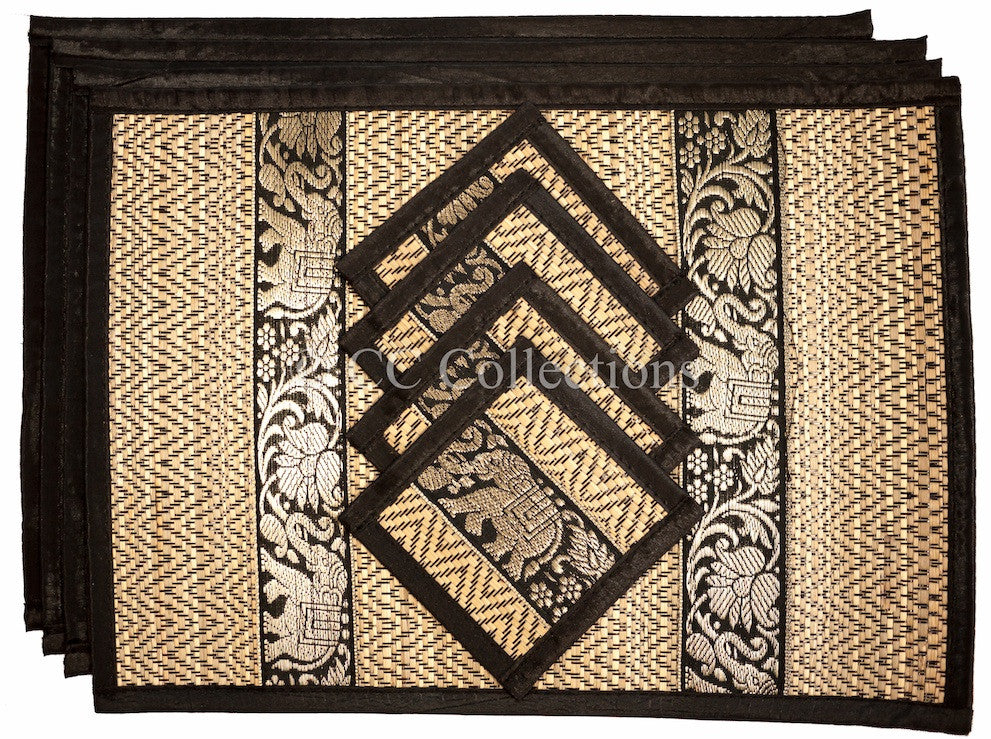 Black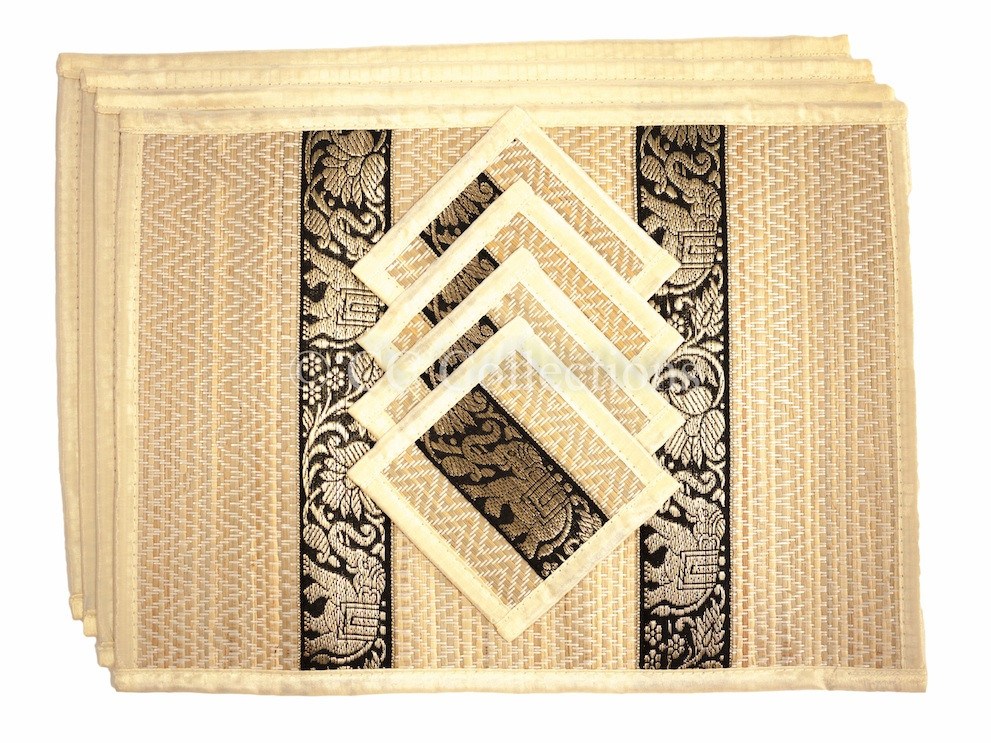 White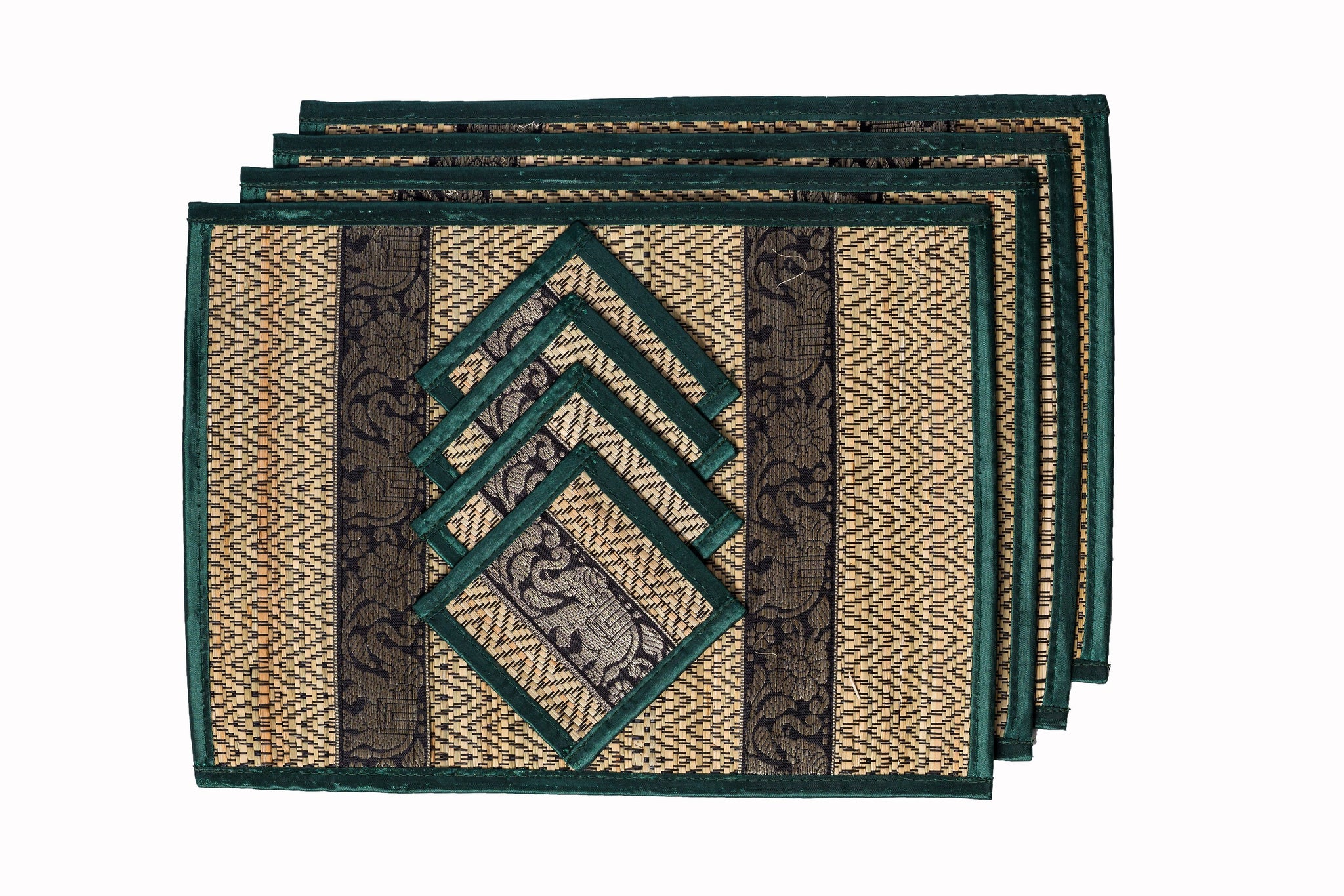 Dark Green